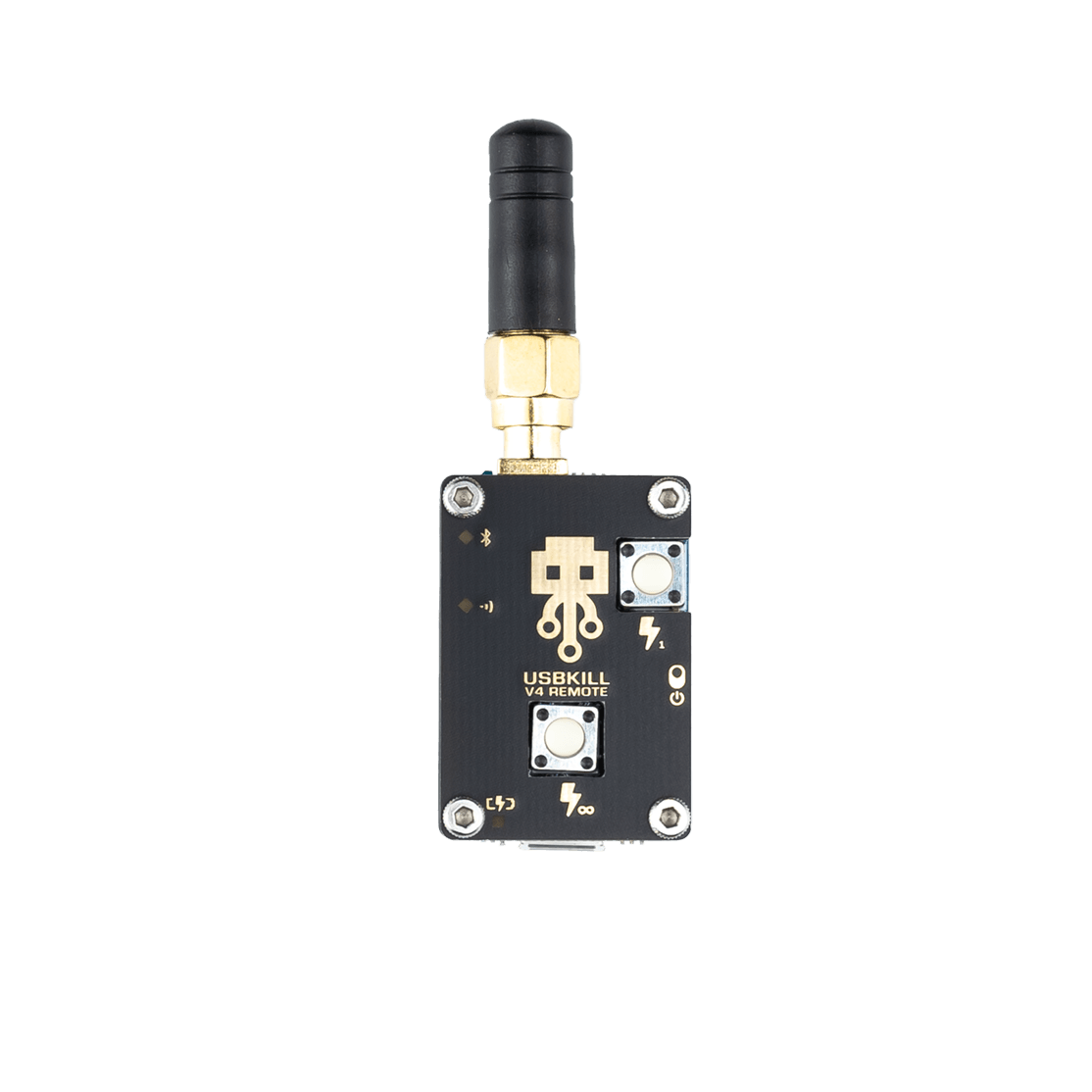 Long-Range USBKill Control.
The USBKill V4 Pro can be remotely controlled via Bluetooth. The USBKill Remote allows for full control from distances up to 100 metres away. Supports single-pulse and continuous-pulse modes.
Included with every USBKill Remote:
Out-of-the-box ready: Some assembly required
Purchase Protection: Money Back Guarantee
World-wide shipping: Tracked & Express Options
---
The USBKill V4 Pro was redesigned specifically to requirements of penetration testers and Law-Enforcement Agencies. Its internal battery and deep-sleep mode allow a device to be installed and remotely triggered up to 200 days later.

Triggering via smartphone requires a close physical presence to the device; the USBKill Remote vastly extends the trigger distance to up to 100 metres.
Please note:
Due to shipping regulations, individually purchased remotes do not come with a battery. You will need to purchase a LIR2032 for use with the device. Remotes sold in the Tactical Kit come with battery included.
Expand your test surface

For penetration testers, the USBKill V4 Pro and USBKill Remote Control expand the testing surface for your clients:
USB Policies
Test Periodic Hardware Review Policies
Red-teamers have specific advantages:
200-day deep sleep: Install a device to trigger at a later date
Create distraction: Remotely trigger distraction during a red-team event
Law-Enforcement use for the USBKill Remote includes:
Remotely Trigger Self-Destruction of sensitive hardware
Create distraction remotely to force target behavior.
Technical Specifications

Hardware
Protocol: Bluetooth Low Energy v5

Battery: Rechargeable Internal Li-ion
Recharge: Rapid charge via USB-C
Functionality
Supports: Single-Pulse Mode, Continuous Pulse Mode
Wireless-Link Status LED
Transmission Status LED
Battery Level LED
Compatibility
Compatible with all USBKill V4 Pro devices
The USBKill Remote is an integral part of the USBKill V4 ecosystem, and is available in kit form in the USBKill Tactical Pack.

---
USBKill Remote Unboxing and Assembly
The USBKill Remote control works out of the box, but can be placed in a protective case (included). Below is the unboxing and case assembly video.

USBKill V4 Remote Control: First Use Tutorial
---
👍 Frequently Asked Questions
I changed the Bluetooth Name / PIN on my USBKill V4 Pro, and my Remote Control doesn't work.
Important: If you update the Bluetooth Name or PIN code for your USBKill V4 Pro, you must also update the PIN in the USBKill V4 Remote Control.
WARNING: There is no way to recover a lost PIN code.
A lost PIN code requires disassembling the USBKill device and performing a hard reset. This is a delicate operation and not covered by warranty.
To update the Bluetooth name and PIN Code for your remote control:
Download the drivers + utility: https://usbkill.com/files/USBKill-V4-Remote-Tool.zip
Install the driver of cp2104 for remote.
Turn off the power of the remote , press and hold the middle button to insert USB into the computer.
When the two lights of the remote control flash slowly at the same time, it indicates that the configuration mode has been entered.
Open the tools on the computer, and the COM port will be searched automatically. If you can't connect, please check the correct com number and select it manually.
Set the new name and password, which is consistent with the USBKILLV4 device. The remote control will automatically connect to the device with a new name and password every time.
Bluetooth Settings Tips:
1.BLE name length is less than 26 bits, ignoring case.
BLE password length is 4 bits, and both numbers and letters can be used.
BLE name can be left blank, and USBKILLV4 device with the same empty name will be searched automatically. The USBKILLV4 device can be effectively hidden by setting an empty name.
Default name of the remote is: "usbkiller", password:"8888".
I changed my Bluetooth PIN Code and forgot the new one.
WARNING: There is no way to recover a lost PIN code for security reasons.
A lost PIN code requires disassembling the USBKill device and performing a hard reset. This is a delicate operation and not covered by warranty.