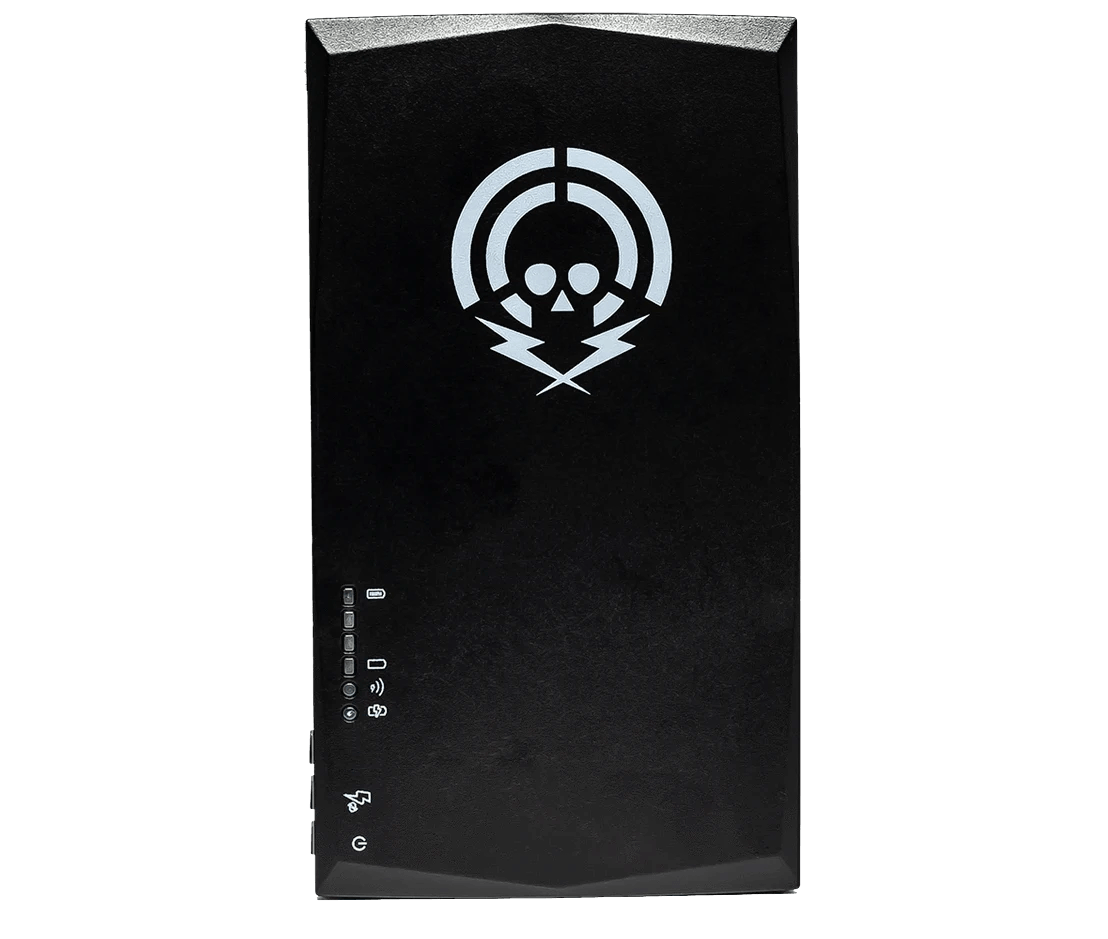 Rapidly disable RFID tags and destroy tag data. Glitch, test and optimise RFID hardware. Audit access control failure modes - and more much.
Included with every NFCKill:
Rugged ABS Case: the NFCKill is built to last
Purchase Protection: Money Back Guarantee
Free world-wide shipping: Tracked & Express Options
Meet the NFCKill
The NFCKill is the world's only tool that can safely destroy RFID badges and their contents.Cutting and even shredding cards are ineffective: the antenna is broken, but the RFID chip remains intact, and data can be extracted. According to EU Privacy Laws (GDPR) and US Privacy Laws, all corporate users of RFID technology must be able to definitely destroy personal information, even on RFID tags.
Clients in high-security environments (Law Enforcement, Government, Corporate and Industrial) use NFC Kill as part of their Data Destruction Policy.
The NFCKill is also used by penetration testers and hardware developers to audit RFID-based security systems.
For pen-testers, the NFC Kill is used to disable or glitch RFID Access Control systems. Used to disable cards, it can force credentials to be reissued. Used to disable readers, it can be used to bypass access control barriers.
For Hardware Auditors, NFCKill can be used to ensure that Failure Modes on Access Control hardware perform as designed.
Securely Destroy RFID tags
Permanently disable tags and erase private tag data.
Audit Hardware Failure Modes
Ensure claimed failure modes of door locks work in reality.
Test and improve RFID Hardware
Test & harden your product against induction attacks.
Fuzz RFID access control systems
Glitch, disable and bypass access control systems.
NFCKill Standard
NFCKill Standard
Single Pulse Mode
 
125KHz Compatible
13.56MHz Compatible
Free World-Wide Shipping
€179.00
Perfect for individual or small-business users.
Easily disable cards individually.
Buy Standard Now
NFCKill Professional
NFCKill Professional
Single Pulse Mode
Continuous Pulse Mode
125KHz Compatible
13.56MHz Compatible
Free World-Wide Shipping
€249.00
Optimised for industrial, government or commercial clients. Process up to 6000 badges per minute !
Buy Pro Now
Technical Information
Compatibility
While the NFCKill is tuned to the most common RFID frequencies, it is effective against all RFID technologies. Likewise, it is able to inductively couple with most devices that contain an form of coil.
Targeted Frequencies:
High Frequency (13.56MHz)

Tags: All known tags (MIFARE Family, HID iCLASS, Calypso, Contactless Payment, etc) 
Hardware: Most reader and writer hardware, NFC-equipped phones, Contactless Payment Terminals, etc
Effective Range: 0 - 6cm
Throughput: 50 cards per cycle (max 6000 per minute)

Low Frequency (125 - 134KHz)

Tags: All known tags (HID, Indala, etc)
Hardware: Most reader and writer hardware
Effective Range: 0 - 5cm
Throughput: 1 card per cycle (max 120 per minute)

Ultra High Frequency (850 - 930 MHz)

Tags: Limited support. Only compatible with radial (spiral) antenna tags.
Hardware: Limited support. Some reader and writer hardware
Effective Range: 0 - 3cm
Secure Card Destruction Throughput: 1 card per cycle (max 120 per minute)
Other Technologies
Wireless charging (chargers and devices)
POS systems
Induction-Loop equipped systems
Systems with coils that can have current induced
Technical Specifications
The NFCKill has the following technical specifications:
Frequencies
Tuned Frequencies: 125KHz - 13.56MHz
Effective Frequencies: 125KHz - 950MHz
Hardware
Battery: Rechargeable Li-ion, 3.3V
Input Frequency: 3.3V
Output Voltage: ~1600V
Operating Modes
Single Pulse (Standard & Professional Version)
Continuous (2 Hz / 0.5s) (Professional Version only)
Miscellaneous:
Battery Life: ~10,000 discharge cycles
Charge Interface: Micro-USB
Case: ABS
LEDs: 4x Battery Level indication, 1x Power, 1x Operation Indication
Operational Warning
The NFCKill is a high-voltage device, containing several shock-hazards. It must be kept and operated in a controlled environment, by a trained and responsible technician. Unintentional damage may occur to due irresponsible operator error.
NFCKill.com declines any responsibility from the use of the device. For more information, please review our terms and conditions.
NFCKill Advanced Testing
Watch the NFCKill's advanced functionality: Hardware Fuzzing, RFID Access Control Failure modes, and more.
NFCKill Standard: How to Guide
NFCKill Professional: How to Guide
---
Buy your NFCKill Professional now - and enjoy free, world-wide tracked shipping.
Buy Now